Consultation - Vision New Minas

Welcome to 'Vision New Minas', a project to develop a Secondary Plan for the Growth Centre of New Minas. This Plan will guide how the community evolves over the coming decades. Read on to find out more about this exciting project, and join the email newsletter below to ensure you are kept up-to-date as the project progresses.
Project News
Engagement Opportunities Launched
2020.11.19
Thank you to everyone who attended the project launch. If you were not able to attend the launch you can view a recording of the presentation and read a summary of the Q&A session in the "Project Library" at the bottom of this page. With the launch of the project we are now rolling out a variety of engagement opportunities to get your input. This includes four surveys, an online mapping tool, workshops, and a "photo voice" session. You can find out more about each of these opportunities under "Current Engagement Opportunities", below.
Current Engagement Opportunities
Placemaking Workshops
This workshop is a chance to have a conversation about how you would like to see New Minas evolve in terms of urban design (buildings, landscaping, neighbourhood feel) and active transportation opportunities (walking, biking, rolling).
Due to increasing COVID-19 restrictions this workshop has been moved online. Please contact jared.dalziel@wsp.com to book a 30-minute time slot.
When: 30-minute time slots on December 4th from 2pm to 6pm and on December 11th from 5pm to 9pm
Where: Online. A Microsoft Teams link will be sent to you once your registration is confirmed.
Mapping Tool
Is there a place in New Minas you love? Or somewhere you think needs improvement? The online mapping tool enables you to place "pins" on a map with feedback that is linked to specific locations.
Surveys
Paper copies of surveys are available by request at the Village of New Minas Offices (9489 Commercial Street) and the Municipality of Kings Offices (181 Coldbrook Village Park Drive, Coldbrook).
Photo Voice Engagement
A picture tells a thousand words! Share what you think is important for the future of New Minas by using photography. This is an opportunity to be involved in meaningful community dialogue, and to learn more about taking photographs and using visual images to present ideas. The photos and stories will be presented to the Project Working Group, and a selection will be printed and exhibited in the community.
Participants will be asked to create and submit 3 photos, and join in 2 zoom calls:
1) January 6, to introduce the activity, provide background and photography tips.
2) January 20, for a storytelling session and discussion about the photos.
Open to all ages, including children and youth. A link to the first session video call will be posted here by December 20th.
Contact the Project Team
Email: hello@visionnewminas.ca
Phone: 902-690-6102
About
What is a Secondary Plan?
In 2019, the Municipality of Kings adopted a new Municipal Planning Strategy and Land Use By-law. These are the documents that guide how and where development happens throughout the Municipality. They include the high-level policies for how the Municipality will develop over the coming years, as well as the detailed regulations (e.g. zoning) that put those policies into action.
A Secondary Plan is a "sub-plan" within the Municipal Planning Strategy for a specific area or community, in this case the Growth Centre of New Minas. The Secondary Plan provides detailed policies for that specific area on topics that do not necessarily apply in the rest of the Municipality. The Secondary Plan recognizes the unique characteristics of the community, and helps to represent and reinforce those characteristics.
The New Minas Secondary Plan is currently being developed so the exact contents are still to be determined. However, the project team expects to investigate topics such as the following throughout the engagement process and when developing the actual Secondary Plan:
Housing
Reinvestment in Commercial Street
Parks and open spaces
Active transportation (walking, cycling, and wheeling)
Development of the lands south of Highway 101, added to the Growth Centre of New Minas as part of the 2019 Municipal Planning Strategy
Efficient use of municipal infrastructure
Protection of sensitive environments
Design guidelines for residential and commercial development
Project Area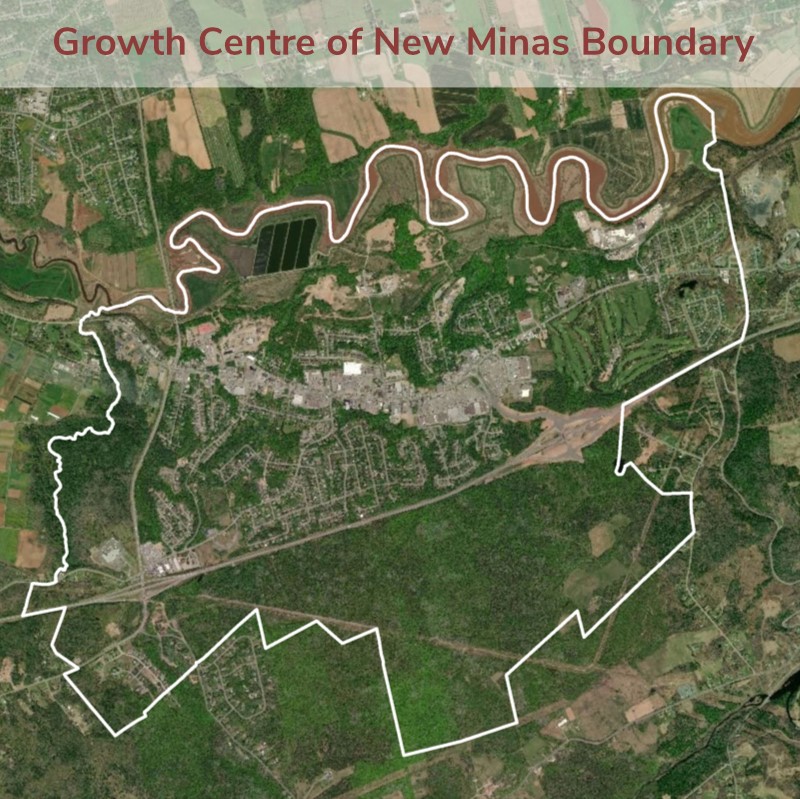 Project Timeline
The overall project is expected to take around two years to complete. The project is broken down as outlined in the following graphic:

Working Group
This project is guided by a Working Group made up of two Municipal Councillors, three Village Commissioners, and seven members of the public, and guided by a Terms of Reference.
Working Group Terms of Reference
Working Group Members
Councillor Jim Winsor (Chair)
Deputy Mayor Emily Lutz
Commissioner James Redmond
Commissioner Mary Monroe
Commissioner Dave Chaulk
Temma Frecker
John Sutcliffe
Paul Gates
John Owen
Mark Redmond
Jaison Sandhu
Michelle Coleman
Technical Studies
The development of the Secondary Plan is being informed by four technical studies that will help the project team to better understand the existing conditions in New Minas and the opportunities and constraints for future development. These studies are currently underway and will address the following topics:
Servicing (water, sewer, stormwater runoff)
Market demand (commercial, residential, and industrial)
Urban design and active transportation
Traffic
Project Library
Engagement